I've always been interested in Indian history. I love reading the Indian romances. So I thought I would build a page on Indian Dreamcatchers.


Legend of the Dreamcatcher

Many moons ago a young
Native American maiden
was shown in a dream
how a spider web was spun.
She was then shown how
to weave a web and make
the first ever dreamcatcher.
The maiden was told that the
dreamcatcher would catch
bad dreams and strengthen
the connection between
creation (Mother Earth)
and the spirit world.
Only good dreams could
make their way through
the small hole in the center.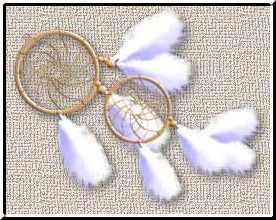 Geoff has many beautiful dream catchers on his site.


Humankind has not woven the web of life.
We are but one thread within it.
Whatever we do to the web, we do to ourselves.
All things are bound together, all things connect.
~ Chief Seattle ~


This beautiful dreamcater was adopted from Cheri.
I adopted this crystal dream catcher at the Crystal Palace.






Background set and some graphics by: