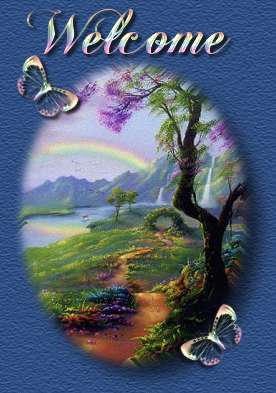 This site is an extension to Terri's Life on the Web. Come on in, grab a cup of coffee and enjoy yourself.

I'm dedicating this site to my Grandmother Patricia who means the world to me. Grandma was diagnosed with breast cancer in February 1999, but is now cancer free!




First, let me tell you a little about my family. Grandma and Grandpa have been married for 51 years. Isn't that a wonderful thing? Family means a great deal to my grandma. She has three wonderful children - my mother Lynn and my twin uncles Jack and John. Anyone who can raise twins is indeed a special person. My grandparents moved to Florida in April 1994 and one month later, I followed! My grandparents have played such a big role in my life that I couldn't imagine being separated from them. Although I don't get to spend as much time with her as I'd like to, Grandma is always in my heart.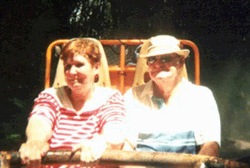 This photo is of my grandparents and was taken in 2000 on a trip to Animal Kingdom

Our family is Irish in origin, so my grandmother loves all things Irish. She also adores hummingbirds, roses (especially yellow roses) and Jeff Gordon! (Sometimes I even call her Grandma Gordon cause she likes to drive like him too!)

In July 1999, my Uncle Jack, Aunt Myrna, cousins Kyleigh and Travis and I took Grandma to the racetrack Daytona for first round qualifying. It was her first time seeing the Winston Cup Cars live and in action. We had soooo much fun watching her face.


My grandmother also adores the Grinch. I can remember when I was growing up, my grandmother was a very religious woman. Any time the church doors were open - you could find her there. Except one night each year. You see, in our area, The Grinch Stole Christmas was shown on a Wednesday night. Now, you have to remember - this was before VCR's were commonplace. Each year, Grandma would stay home from church on that Wednesday just to watch the Grinch. She could tell you every single word! LOL. In fact, one year for Christmas my brother and I got her a stuffed Grinch doll as a gag gift.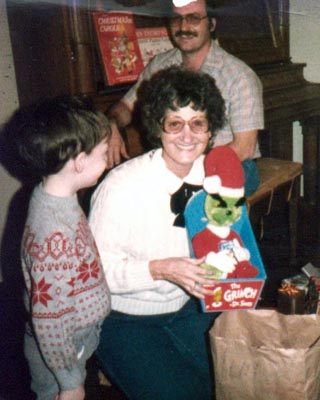 This is Grandma and her Grinch. The little guy is my brother Shane who is now 22 and my Uncle John is sitting on the piano bench behind her.




We all love to tease Grandma cause it's sooo much fun. For instance, timeline - New Year's Eve 1988. I was 8 month's pregnant and my husband was working the graveyard shift. So my grandparents, Uncle Jack and Aunt Myrna, and myself all went to my mother's house to ring in the New Year. My step-father, Bob, makes killer Pina Coladas. Of course, being pregnant - mine were the non-alcoholic version, but everyone else was having the "real thing." Now, Grandma is not a drinker, but when she does drink - she gets the giggles. And all it takes is one drink to turn her into a big gigglebox. So she had her one drink and started giggling at everything we said. We put all the glasses, mixer bottles and the bottle of rum in front of her and took her picture. We told her to be good or we'd put it on the church bulletin board. Of course, we would never have done that and she knows it - but we still love to tease her about that picture. Come to think of it - that picture disappeared. Wonder if Grandma had anything to do with that????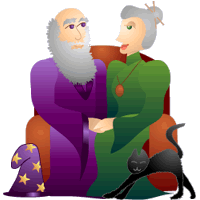 I adopted this page guardian set to watch over my Grandparents. You can adopt a guardian by clicking on the logo.




We all have lots of fun with Grandma. One memorable road trip happened just a couple years ago. My husband had recently gotten a new job and had no vacation time coming, but I wanted to take the kids and go back to Illinois to see my dad and the rest of the family. My Uncle Jack and his family were here visiting in Florida and were ready to go back home. So I convinced Mom and Grandma to go on vacation to Illinois and take me and the kids. I thought it would be a great opportunity for the 3 of us and my two kids to spend some time together. Well I don't drive in traffic, but I promised my mother I'd help her through Atlanta. We were following my uncle and he's a great one to follow. He doesn't go to fast or slow, keeps a watch out for those behind him so we don't get separated, and we had the signals all worked out in case anyone needed to stop.

Well it's almost midnight and we were in quite a bit of traffic. We were approaching Macon, Georgia. We took the bypass and he went through Macon. By the time we realized he was not taking the bypass, we couldn't get over! We waited on the other side of Macon, but no Jack. So, we had to go on and go through Atlanta on our own!!! Traffic was horrible. We got to the point where we needed to make our exit and couldn't get over. We ended up taking a wrong turn. Grandma was pretty antsy. Mom was handling it well. I was helping look for road signs and the kids were snoozing away. They were doing road construction, so it cut traffic down from 6 lanes to 2 lanes. Talk about a nightmare. Well, we took another exit and were looking for a place to turn around. Low and behold there is a sign that says "Greenville SC xxxx miles". Grandma says "Oh my God! We're in Greenville! What are we gonna do now??"

Needless to say, Mom and I started laughing our butts off and explained that we weren't in Greenville, she just looked at the sign wrong.! To end the story, we got turned around, found our exit and made it out of Atlanta in one piece. But now everytime we go somewhere with Grandma, we ask her if she wants to go to Greenville.




As you can tell, we all love Grandma and I could go on for days with Grandma stories. This page is for you Grandma. I love you!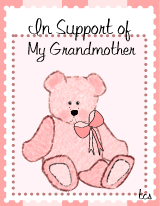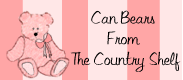 I adopted this bear in honor of my Grandmother Patricia who is a breast cancer survivor!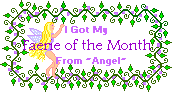 This is the October Birthday Fairy I adopted to watch over my grandmother and bring her luck.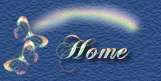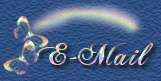 Graphics by: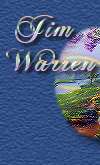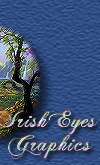 © 2001 Terri H.